Bundoran man surfs Ireland's biggest wave
A few weeks ago Bundoran man Conor Maguire surfed what has been described as the biggest wave to ever hit Ireland's west coast. Though modestly admitting he's not sure if it was actually the biggest, he says it was certainly the biggest one he's ever surfed "for me personally anyway definitely the biggest wave I've ever had there and it was easily the biggest I've ever seen, the bay that morning was just crazy the things it was doing" says Maguire from the comfort of the Tourist Office where he's having a chat with me.
Bundoran has the reputation of being Ireland's Surf Capital with surf breaks to suit every level of surfer – the likes of the Malloy Brothers and Kelly Slater have all surfed here and it's become its own industry within the town. Maguire agrees that it's a great place to start surfing "Bundoran is the perfect place to start surfing as a young kid, you know we've got all the best waves here to progress through from starting from Tullan Strand down to Mullaghmore, it almost like it progressively gets more difficult. The further down the coastline, you go towards Mullaghmore, it's like stepping stones to the next big wave or whatever.
He puts his now career down to some great relationships with the local surf schools and surfing friends "I was lucky enough to grow up at Tullan Strand with my granny and my mother and my sister there. And yeah, I learned to surf in Bundoran Surf Co. with Iarom Madden back in the day. And it was amazing surfing with him. We just kinda bounced off each other like he was ultra competitive and he was a really, really good friend to have and yeah, just along that road, you know, there was a few legends, and the Murphy's being one of the prime families like they always looked after everyone and they were hugely influential for surfing here in Bundoran you know and yeah, just to get in like Aaron Reid and Ronan Oertzen and all those kids, like they give them the bed any time they wanted it and fed them. And it was just amazing to have like a little group of lads like that to bring our surfing on together. I think that really, really helped surfing here in Bundoran."
He pays tribute to the core surfers in the town who he calls his role models "just having the support of the locals here like local surfers, like Richard Fitzgerald his knowledge was like invaluable, you know like what he thought. And he was always so helpful and always wanted to make sure that like we had the best and yeah, that was really nice of him. And then like the McGloins, the Brittons, all the lads in Surf Co. like Pete, Aidan, and Josh, Ciaran.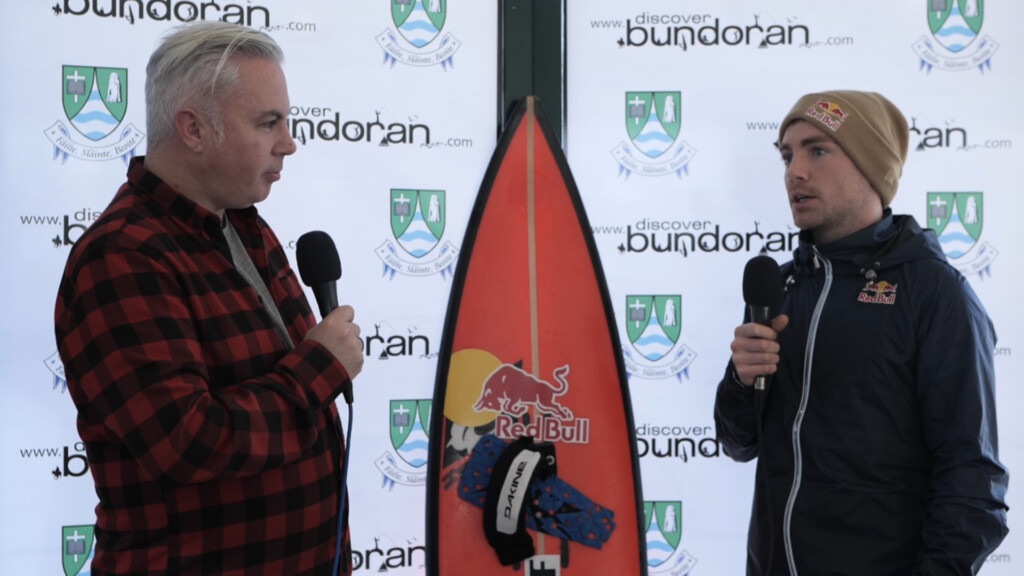 We all have really, really good role models here and have like, had amazing surfers here growing up too so" says Conor.
Having surfed in locations around the world, there's still no place like home for Conor "Ireland and Bundoran specifically, our little stretch of coast is like the golden mile, you know. It's like better than anywhere in Europe, as good as anywhere in the world, as good as Australia, Indonesia, Hawaii, and to have like the variety of waves we have from Tullan Strand to the peak, to the waves in Tullaghan and then on then, you know, like Mullaghmore. Those waves are just like the perfect opportunity to progress, like you can surf little waves at Tullan and get used to it and get comfortable with surfing and Tullan gets bigger and bigger also. So you can kind of progress and push yourself and then you go to the peak and then you move on to bigger waves. And it's kind of yeah, like I said, it's like a proving ground and it's a great place to grow up for but nowhere compares to Bundoran – maybe I'm biased!"
Conor is sponsored by Red Bull and tells me how that came about "One of my friends, Rory Tuohy surfed a lot when I was younger also, he's a really, really good surfer. He lived here for a while. He had a friend called David and David worked in Red Bull Ireland, and then Rory put me in touch with David and David got me sponsored by Red Bull. And yeah, the rest is kinda history. Now David works in Red Bull HQ in Austria. So he's amazing. I can't thank those guys enough."
Despite the short notice of waves arriving, a lot of planning goes into these events however the window can be pretty short says Conor "Yeah, pretty much, you know, this like these little swells or big swells, so they pop up in the Atlantic, those are the days we wait for. You know, there's like a handful of days out of every winter that are really prime conditions for Mullaghmore. And they're the days you dream of and wait, your whole season for. And this day Wednesday morning was like no other, it was a day that I've been waiting for my whole life not just a year, and like, it exceeded my expectations and dreams as a child. Like, I didn't think Mullaghmore could even look as crazy as it did that morning. So yeah, it was just really impressive."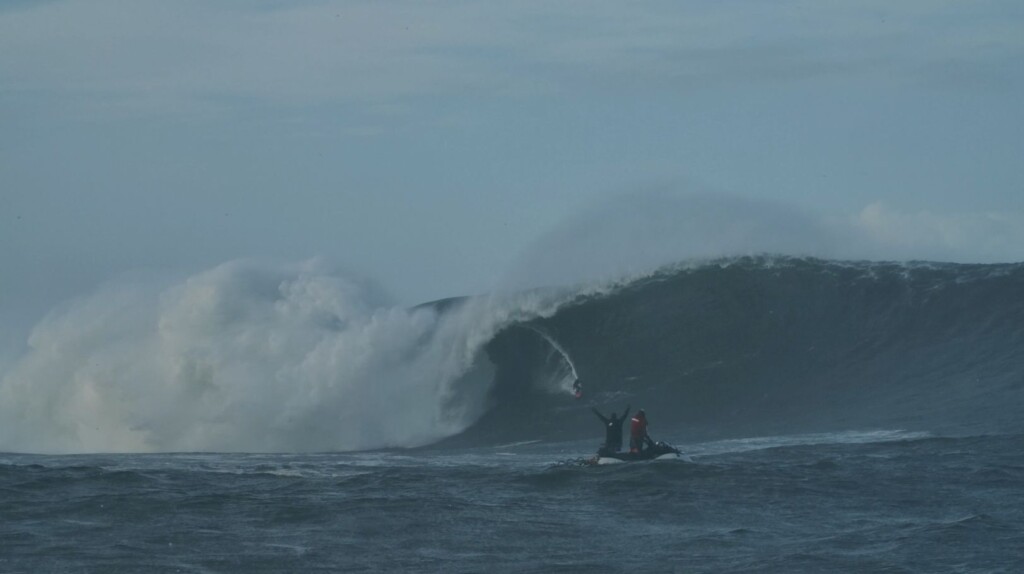 With 24 hours to go, it was game on.
"I guess, you know, I was just treating it like just took it as it came day by day, I was just looking at the charts. I could just see this huge block blob in the North Atlantic. As did the whole surf world and I mean, like national media picked up on it too. 'Cause it looked like it was about to eat Ireland. So yeah. I mean it was pretty obvious that those numbers that we're seeing were gonna be absolutely ridiculous. But Ireland being Ireland, you can never be certain like the conditions change here so much as you know, like four seasons in a day. And yeah. So it's only really the night before or the morning of, or when you see the waves that you actually know it's pumping. So yeah, I just, the night before I just kind of relaxed and just-
Did you sleep?
I did asleep actually.
Was it like Christmas?
Yeah. The night before the night before I was I was up all night man. I was freaking, but that day I was really chilled. Like I just stretched all day and did breathing exercises and just like was totally at ease with myself and totally ready for it."
Were nerves a factor? "Yeah. A little bit, but it just felt like everything that I've ever done in surfing or any work I've put in all led up to that morning. And yeah. So it was strange. I was quite content and at ease so I did, it was weird. I should have been shitting myself, but I was, I was okay."
One can only imagine, going back to the Christmas reference above, that at this point Conor had just woken up on Christmas morning around 5am and was bursting to get downstairs to see if Santa had been and brought him a new surfboard…
"I wanted to be out there first light. I wanted to be launched in the skis in the dark and be at Mullaghmore while it was getting bright. And Finn Mullen said, that's not the smartest idea, Conor, you need to wise up. And we have to wait for the Coast Guard to be able to see us if something does go wrong. So yeah, like I'm thankful I listened to Finn. He straightened me out a bit. I was just like shaking with excitement and you know like I said, I wasn't that nervous because the lads involved like Finn and the Irish Tow Rescue Club, I had Owen Murphy and Dave Law on the cliff spotting me there was a paramedic on hand, a private ambulance. The Coast Guard were informed. Like it couldn't have been safer and it couldn't have been a better opportunity for me to push myself. So I was kind of yeah, it was, I was like confident that I could do it.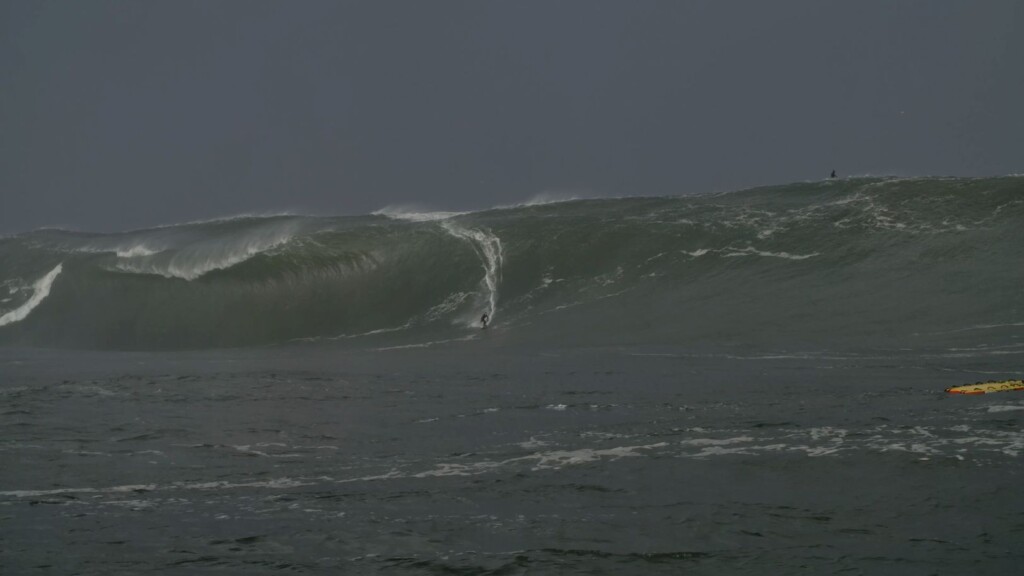 Conor has a vivid recollection of the day…
"We got out there and we assessed the situation first for a few minutes and it looked crazy. Like there was just waves going inside out and they, most of them didn't look surfable so yeah. I just I had my friend, Barry Mottershead who he kind of showed me the ropes out at Mullaghmore and taught me everything I know. And yeah, he was driving me into these waves. So he was the perfect guy to pick them, and yeah, he did an amazing job. Like it was, it must've been so difficult. It was like a dime a dozen. And it was like picking a diamond out of the rough and he was able to do it. So I was very lucky."
"I just remember seeing the whole horizon go black pretty much. There was like a set that started feathering in the middle of the bay, in between Sliabh Liag and Mullaghmore, pretty much. And you could just tell this thing was gonna be like the biggest wave of the day. It was massive. Like, I got like an instant rush of nerves, but then I just settled and like Barry and I are sort of so connected on the skis we've been driving so long he kind of just looked at me and was like, do you want this one? I was like, okay. And he just picked me up and put me into this huge, big clean face. It was like I dunno, it was the most perfect wave I've ever been on at Mullaghmore. I just remember dropping down the face and this thing just stood up. And as it started feeling out where the reef was it just like jumped in size times two, I'd say. And like, it just felt like I was skateboarding down a hill for so long. And yeah. I just remember parking it and standing on this like huge face. And it was really cool 'cause I actually got timed to take it all in and appreciate how beautiful it was. Like it was just this big green emerald wall of water. Like it was pretty cool."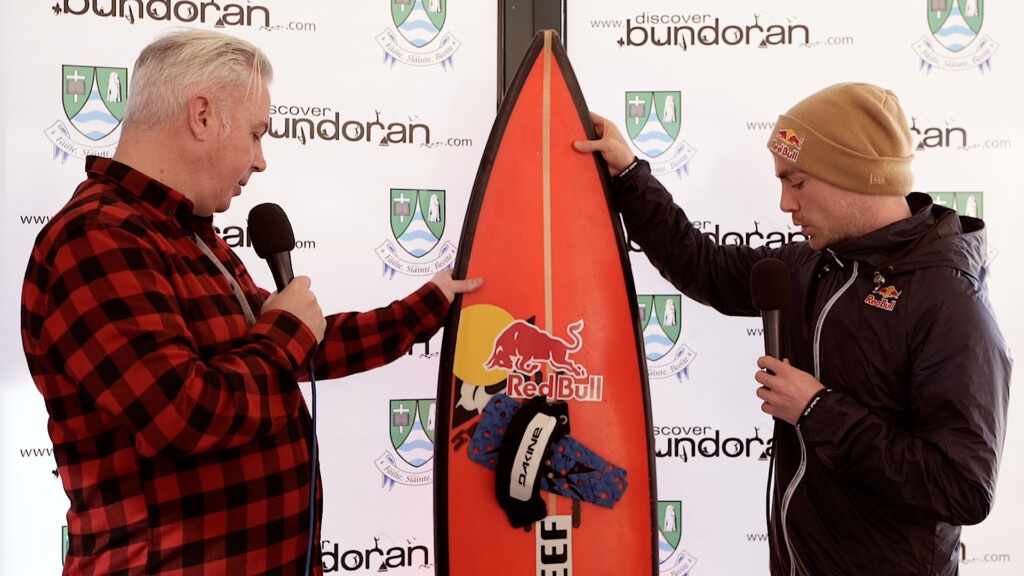 Conor brought the board he rode on the day in for us to see. "Yeah, this is the one. I've had this for quite a while now. I was lucky enough to be gifted that by a big wave surfer called Will Skudin he's from New York. He's well known. He's on the big wave world tour and yeah I went through a phase of snapping a lot of boards. I broke five boards in three days and two of them weren't mine. So yeah. One of the other ones was his actually. And he, yeah, he felt sorry for me and gave me this thing.
I remarked that it was quite a small board to have surfed such a huge wave on…
"With the tow boards, they're weighted as well. They're a lot heavier than a normal surfboard. And that's just to like cut through chop and wind and stuff. And when you're going really fast, but like for tow surfing you use these things and the straps. And, but for paddle surfing, which is what we also do at Mullaghmore, you'd have a much larger board just to get the speed up, to be able to get into it. But yeah, it's crazy. Like you don't need a very big board on a wave that big it's kind of, it's a bit of a contradiction I suppose."
So what does the future hold for this young Bundoran surfer?
"I'm just taking it as a comes now. Just like trying to settle my brain and process everything. I've got a few videos coming out with Red Bull soon from around Bundoran and Mullaghmore, and that should be coming out in the next few weeks. And other than that, I'm just gonna keep on surfing big waves, I suppose, and wait for a big swells to come in and hopefully get to travel soon enough as well to do it internationally. That'd be the dream so…"
"…well you're elite so are you allowed to travel or how does that work?"
"But I mean, if I travelled and came home and have to quarantine for two weeks and missed a big swell here, that'd shake me to the core. So I'd rather not take the risk."
A man who does what he loves for a living. Check out the video of the chat below.
Conor Maguire was in conversation with Bundoran Tourism Officer, Shane Smyth.
The Bundoran Weekly Podcast
Check out the latest episode of our weekly podcast below! To find out more click www.bundoranweekly.com