46th Ballyshannon Folk Festival next week
For the past 46 years on the last weekend of July, the historic town of Ballyshannon in County Donegal has presented a Folk and Traditional Music Festival. We are now delighted to announce our line-up for 2023!
Thursday 3rd August – The Seeger Sessions Revival: Thursday 3rd August, our first concert will come live from the Abbey Arts Centre –it's a show that is sold out everywhere – The Seeger Sessions Revival – This 14-piece band 'reviving' the spirit, energy and musical exuberance that was Bruce Springsteen's Seeger Sessions album and live shows. A high energy 2 hour-long on-stage celebration of American Folk with hits including 'Old Dan Tucker', 'Jesse James' and 'American Land' to name just a few. Tickets www.abbeycentre.ie
Where Music & Art Meet: This year, Ballyshannon Folk & Traditional Music Festival, the committee are delighted to again present an exhibition by their resident artist, Barry Britton. This exhibition will be launched on Thursday 3rd August at 7pm in the Abbey Arts Centre and will be live in the centre until the end of August 2023. This is a unique opportunity to view the Barry's artworks on display locally.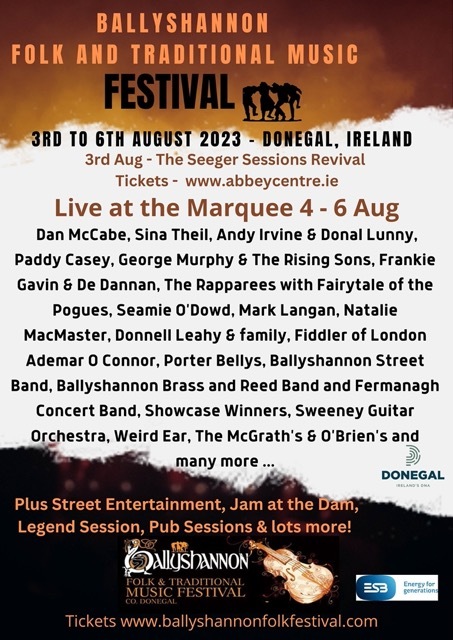 Showcase: This element of our festival allows us to showcase emerging talent, we have group and solo categories. Winners will perform over the festival weekend, the winner of our solo competition is 17-year-old Muireann Bradley from Ballybofey and our group winners are the Laois Music Generation Trad Orchestra.
Jam at the Dam: This unique intimate concert takes place on the banks of the Erne in Cathaleen's Falls Hydroelectric Power Station on Saturday 4th August at 12 noon. This year we are absolutely delighted to welcome Natalie MacMaster, Donnell Leahy and family to play. As Canada's leading duo of Celtic music, MacMaster and Leahy have surpassed many milestones together and achieved a wealth of accomplishments and awards. Their synergy was brilliantly showcased on the pairs first recorded collaboration, 2015's Bob Ezrin produced album One, a crowning achievement complementing combined album sales of over one million. Since then, the couple have released two more records, including their most recent album, Canvas, which was released earlier this year. With Yo-Yo Ma, Alison Krauss, Bela Fleck, Shania Twain, Michael MacDonald, and The Chieftain's as collaborators, to name a few, they have captivated audiences stretching from Sydney, Nova Scotia to Sydney, Australia.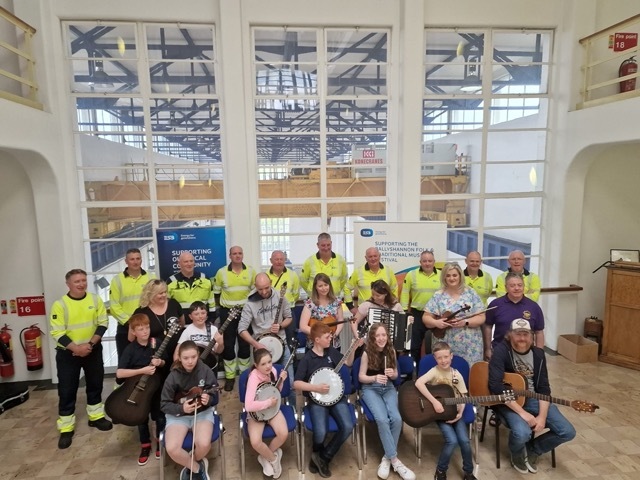 Legend Sessions: One of the many interesting fringe events will feature the sixth of the series of LEGEND SESSIONS a tribute session of two musical greats who, although no longer with us in this life continue to have a major influence on our musical heritage, will be hosted. This year the music of Jeff Beck will be joining the music of Donegal fiddler, Johnny Doherty who died in the Rock Hospital in Ballyshannon in 1980.
This gig attempts to create the session that might have taken place if they had travelled through time and space to Ballyshannon. This year's session will be recreated by Mark Langan and Seamie O'Dowd and really will be one not to be missed on Sunday 6th August 2023 in the Bridgend Bar at 12.30pm!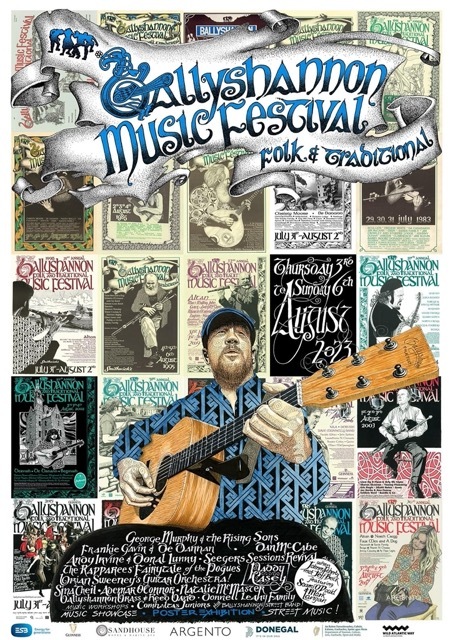 Festival Concerts – Live in the Marquee –Friday/Saturday and Sunday at 7.30pm:
Featuring Dan McCabe, Sina Theil, Donal Lunny & Andy Irvine, Paddy Casey, George Murphy and the Rising Sons, Frankie Gavin & De Dannan and Fairytale of the Pogues with The Rapparees, Ademar O'Connor (2023 winner of the Fiddler of London Competition) Showcase winners and lots more.
Add to the mix some great Street Entertainment all weekend with The O'Brien's and McGrath's, Weird Ear, Sweeney Guitar Orchestra, Austral (Australian Trad Band), The Porter Belly's, Natalie MacMaster and family, Ballyshannon Street Band, Ballyshannon Brass and Reed Band, Fermanagh Concert Band and lots more, lively pub sessions with our Ballyshannon Folk Trail, fringe events and workshops – this leading festival still has something to cater for all tastes 46 years later!
As always Ballyshannon Folk and Traditional Music Festival is indebted to our sponsors, ESB who have been proudly supporting the event since 2017. ESB is deeply embedded in South Donegal, with Cathaleen's Fall hydroelectric power station in operation since the early 1950s. It has been delighted to host the Jam in the Dam event, opening the station each year to locals and visitors alike to enjoy tremendous music in a unique setting. Along with Cliff station upstream, ESB continues to harness renewable energy from the Erne's waters, generating clean electricity for the equivalent of 38,000 homes.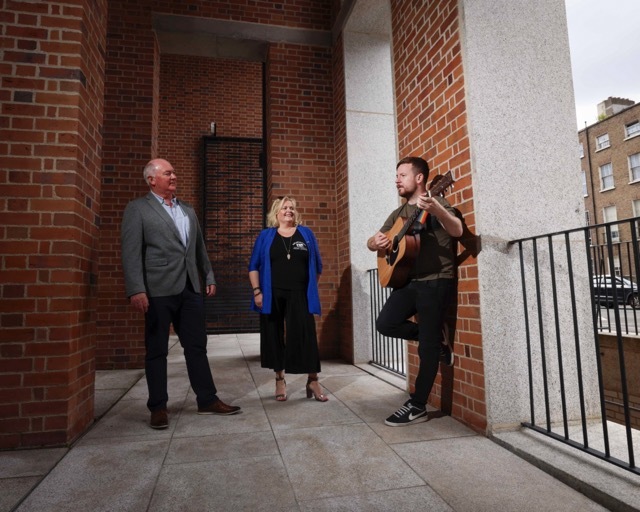 Thanks also to Diageo, Argento, Donegal County Council, Failte Ireland, Department of Tourism, Culture, Arts, Gaeltacht, Sport and Media also our local sponsors and our accommodation sponsors, the wonderful The Sandhouse Hotel in Rossnowlagh.
Ballyshannon Folk and Traditional Music Festival hope you will join us in appreciating some great music, song and laughter as we celebrate our 46th Ballyshannon Folk and Traditional Music Festival – the oldest festival of its genre in the world – coming to you from the oldest town in Ireland. For a full list of all events check out www.ballyshannonfolkfestival.com
The Bundoran Weekly Podcast
Check out the latest episode of our weekly podcast below! To find out more click www.bundoranweekly.com