European BlueSurfest for Rossnowlagh
The event is an initiative of INCLUSEA, a European consortium of 7 organisations from 5 countries that seeks to foster and promote greater inclusion and accessibility for people with physical and/or sensory disabilities in surfing in Europe. The Irish leg of the event will take place on Rossnowlagh beach across the weekend of 22nd-24th of September 2023.
BLUESURFEST is an EU wide project which will create a network of non-profit, inclusive surfing events in the form of local Blue Surf Festivals across six European countries: Spain, France, Germany, Portugal, Italy, and Ireland. These festivals will seek to break down barriers to inclusion in sport and society and promote the practice of surfing to people with different needs and capacities, improving their physical and mental health. 
Blue Surf Festivals will involve regional and national surf communities for people with physical and/or sensory disabilities and will also promote volunteering and sustainability in sports. The partners include the following public management organisations, national federations, sports clubs and non-profit organisations –
Sociedad Regional de Educación, Cultura y Deporte (SRECD), Spain
Surf Clube de Viana (SCV), Portugal
Association Nationnale Handi Surf (HS), France
Liquid Therapy (LT), Ireland; 
The German Surf Federation (DWV), Germany;
Federazione Italiana Sci Nautico e Wakeboard (FISW), Italy.
Tom Losey CEO and founder of the Irish based Liquid Therapy is looking forward to the event in September "To be able to deliver BLUESURFEST is a real privilege and we are most grateful to the Erasmus programme for making this possible. We are excited to share the message of inclusion and the power of blue space (water) here in Ireland as part of the network of festivals being delivered across Europe. We've always known just how special the coastal communities are in Donegal and now to be able to host a national event is very inspiring!"
All Blue Surf Festivals will include a wide range of different surf related activities aimed at community building, such as inclusive surf competitions and demonstrations, together with a mix of related community seminars and events, targeted to raise awareness at local and regional levels about the social and environmental potential of surfing. The project aims to reach 40,000 individuals throughout Europe and will involve up to 900 athletes supported by up to 6,000 assistants including volunteers, stakeholders and local decision makers.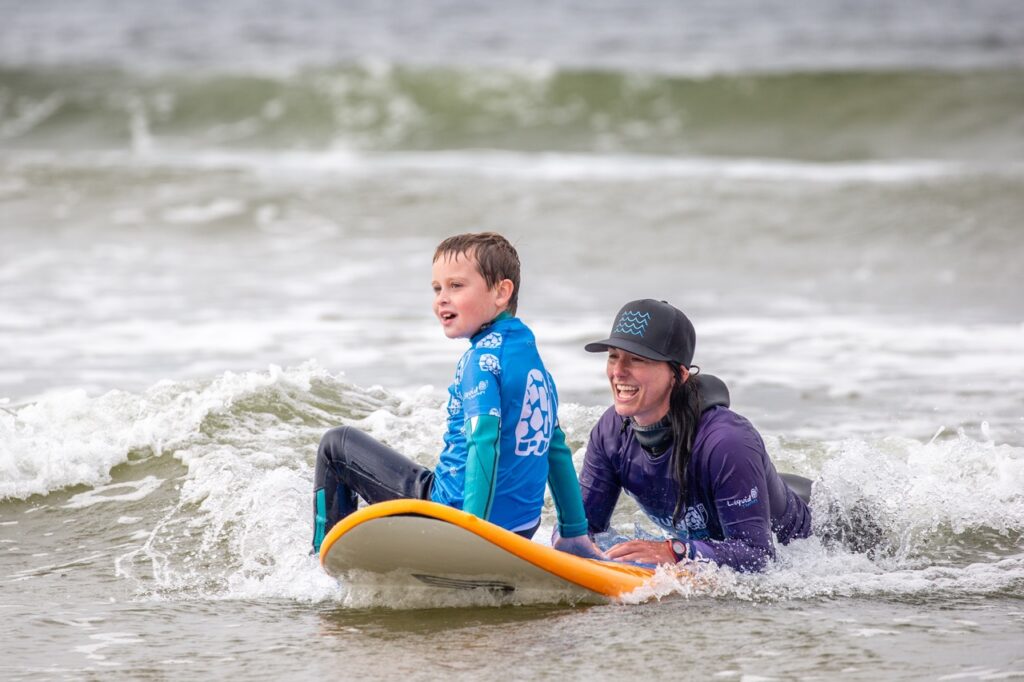 All EU member state Ministries of Sport will be aware of the project and the importance of education and training methods to make surfing and the ocean more inclusive. The project aims to leave a legacy beyond the Blue Surf Festival events, with a transnational and replicable approach, with the aim of supporting further development in the field of inclusive and adaptive surfing, including:
Increasing awareness of the role of sport in promoting social inclusion and equal opportunities
Improving the accessibility of sports practice in coastal blue spaces for competitive and recreational purposes.
Providing well-structured guidance to volunteers to successfully engage people who currently face numerous difficulties accessing aquatic sports.
Magnifying the health and wellbeing benefits that surfing provides to participants.
Fostering environmental sustainability, protection, preservation, and enhancement of blue spaces.
Dynamizing local communities through cultural and sport activities such as seminars, conferences, live music, films, art exhibitions, beach clean-ups, surf contests or exhibitions.
Promoting collaboration and cooperation between different stakeholders of each blue community which involves different administrations and organizations joining and working together for a more inclusive society through adapted sports.
More details on the event can be found on the website http://inclusea.eu/bluesurfest/
The Bundoran Weekly Podcast
Check out the latest episode of our weekly podcast below! To find out more click www.bundoranweekly.com